It was a long, hot drive from Vienna to Budapest, enlivened mainly by a coffee and cake stop at Sopron.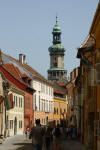 When we arrived, our first stop was a local bar for a cold beer. Our second stop was the wine festival taking place in the City Park 2 minutes walk from our hotel. The rest of the evening is a bit of a blur, but it seemed to involve lots of barbequed meat and bottles of cheap (but good) Tokaji wine. A good way to get to know your travelling companions!
The following morning, we took a guided tour of the city, that started off in Hero's Square, continued up to Gellert Hill (with the enormous Liberty Statue) and the citadel, and finally concluded up at the Buda Castle complex and the Matthias Church. It was a scorching hot day, and the replacement air-conditioned bus was seriously appreciated!
We had lunch in a local fast food restaurant, did a little shopping and then had a lazy afternoon. When night fell, we took a cruise along the Danube, and some photographs of the city by night.
Whilst we enjoyed Budapest, the heat and constant big city atmosphere and noise were starting to tell. It was time for the countryside and some fresh air ...