The following pages contains photographs, information and personal commentary taken from recent cruise holidays that we have taken.
We hope that you enjoy them.
The Baltic June 2015 on the Celebrity Eclipse

Around Italy April 2014 on the Ventura

Japan and South Korea June 2013 on the Sun Princess

Eastern Mediterranean August 2011 on the Thomson Celebration

Western Mediterranean April 2011 on the Thomson Dream

Canary Islands November 2009 on the Independence of the Seas.

Mediterranean January 2009 on the Norwegian Jade (formally the Pride of Hawaii).

Transatlantic September 2008 on the Sea Princess.

N Europe September 2007 on the Jewel of the Seas.

Arizona, Hawaii and Las Vegas November 2006 (partially) on the Pride of Hawaii.

The Far East (China, S Korea and Japan) March 2006 on the Statendam.

The Mediterranean October 2005 on the MSC Sinfonia.

The Baltic June 2005 on the Century.
New England and Canada October 2004 on the Constellation - yes I know I still haven't written this one up yet and probably never will ...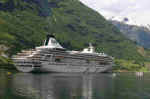 Norway and Iceland June 2004 on the Royal Princess.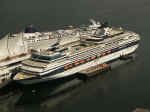 Canada and Alaska August 2003 on the Mercury.